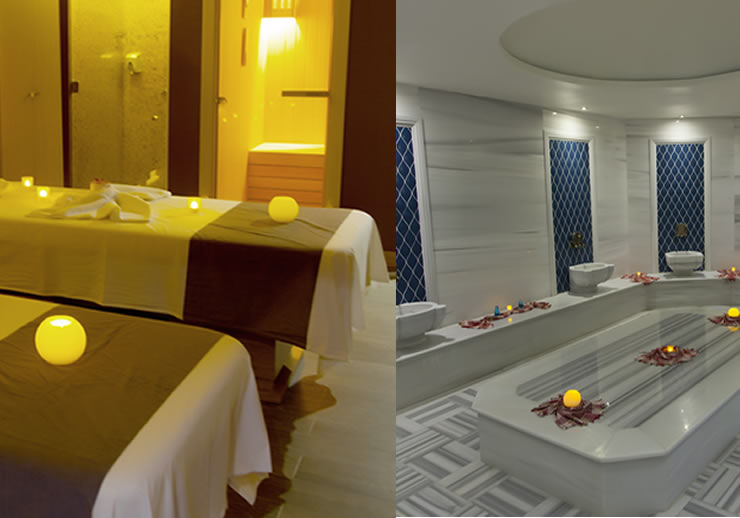 SPA originates from Latin and "SANUS PER AQUA" means health from water. The unique concept of SPA brings together the methods of making feel good from different regions of the world. While taking you on a journey that covers Europe, America and Asia, it makes you regain health, wellness, aesthetics and beauty with the healing power of the water. Our spa center is established on an area of 3000 m2 and there are standard membership discounts for Spa and massage services.

The Spa Center is open from 07:00 to 23:00 on weekdays and from 08:00 to 22:00 on weekends.

In addition, there are steam baths and saunas located in separate areas for our male and female guests in our spa. In our fitness center, we have all kinds of equipment to make you feel fit. We have 8 treadmills and 11 spinning bikes for group lessons. In our center, we have a 12 m long and 1.40 m deep swimming pool, which is open to the use of males and females seperately and maintained every week. However, our Turkish bath is also available as a common area in our center. In our gym, we have instructors who have knowledge on every issue and will be able to assist you according to your wishes.

There are 6 massage rooms in our facility and 1 of them serves as VIP. VIP is a double room with a sauna and Turkish bath.

Today, wellness is not only accepted as a trend but also as a lifestyle. The philosophy of wellness is established on accepting human beings as a whole and increasing the body, soul and mental health by harmonizing and balancing them. After a busy day, a massage will make you feel refreshed, relieve your muscle tension, give your body freshness, energy and power.

• You can refresh your mind in the unique atmosphere of LOTUS by choosing the most suitable massage and care options for you together with our specialists.

• To get the best results, we recommend you to take massage and body care at least once a week and facial care once a month.

• You can treat yourself with our special VIP rituals for couples. We can welcome guests at 14 and above as per the Wellness and Spa concept in our hotel.